Everyone Valued, Everyone Included, Everyone Performing at Their Peak™
As a P&G employee, you will experience our culture of Diversity & Inclusion every day.
We come from diverse traditions, with a wide array of personal experiences and points of view. When we come together, we create an amazingly rich tapestry. That's why, in our increasingly interconnected world, it is only appropriate that we celebrate everyone's uniqueness, every day.
Diversity & Inclusion is deeply rooted in our company's Purpose, Values & Principles. It is who we are, and aspire to be, as a company. By understanding, valuing, and including the diversity of those we work with and serve every day, Diversity & Inclusion enhances our ability to understand our consumers. It is about a culture of respect for every individual, for the consumers we serve, and for the people we work with every day.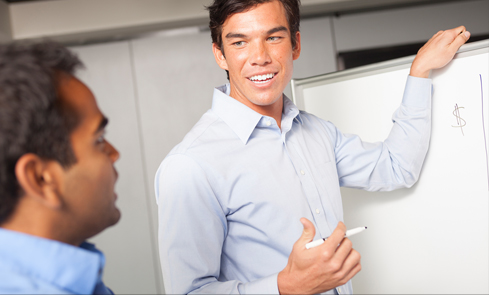 P&G-Diversity and Inclusion
View More
Our focus areas
Leadership Accountability is in place to enable three focus areas:
Diverse talent throughout
In our experience, we are much better at developing game-changing innovations when we have the most diverse groups developing them. Innovation is our lifeblood. It is how we touch and improve lives.
Trusting, open and inclusive culture
We believe in creating a culture of respect for every individual, for the consumers we serve and for the people with whom we work every day. This requires trust, openness and inclusiveness.
Flexible environment
A culture of flexibility and agility that inspires peak performance whether it is of physical space (where, when and how), of style or of culture – we are in touch and embrace our changing environment.
Driving Diversity of Thought at Reading Innovation Centre 
At our Gillette & Venus innovation centre at Reading, we are delighted to be working in partnership with the National Autistic Society to offer work experience placements to young individuals with autism. Ahead of the placement, we will be running an experiential day on 24th February at the Reading site, where selected individuals will be able to see what type of work our scientists and engineers do at the innovation centre and try a few things out for themselves!
After the experiential day, 2 placement positions will be offered starting in mid-March, lasting for a total of 14 days spread over 2 months. If you would like further information, or know somebody who may be interested in this opportunity, please visit http://www.evenbreak.co.uk/jobs/27099 to apply.
We are very excited to be running this programme, as we understand more about autism and the diversity of thinking individuals at any point on the autism spectrum can bring.
AWARDS
Catalyst Award, 2015  for our innovative approaches to recruitment, development and advancement of women globally.
Top 10 Best Company for Female Executive by Working Mother Media 2014, 2015, 2016.
Top 5  Best Company for Multicultural Women by Working Mother Media 2014,  2015, 2016.
Top 10 Company for Diversity by Diversity, Inc. 2014, 2015
100% score on Human Rights Campaign Foundation's Corporate Equality Index as best place to work for LGBT equality. 2014, 2015, 2016
Consistently rated by Diversity, Inc. as a top company for people with disabilities.
Received the National Organization on Disability (NOD) Leading Disability Employer SealTM in 2016.