Sales Intern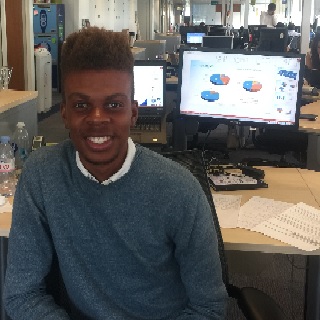 Name: Derin
Role: Sales Intern
Location: Brooklands, Weybridge
Length of internship: 10 Weeks
After the first week
My first week at P&G consisted of corporate onboarding and functional sales training. This week was a comprehensive welcome to the company and made the transition into P&G very smooth.
The first two days were spent at Sunningdale Park Hotel, where I got the opportunity to meet all the interns from across the business. We took part in a series of talks and interactive sessions on P&G's values, how to make the most of your internship, and team building.
The next three days were based at Brooklands, where a smaller group took part in sales training. In this time we looked at things like persuasive selling, communication skills and innovation. The training was both exciting and informative as there were some challenging tasks we had to take part in. Perhaps the most daunting was the Oral-B case study, in which groups had to prepare a new product pitch and communicate this to a retailer representative. The constructive feedback was extremely helpful.
Despite challenges during the training, those training us were very accommodating and happy to answer any questions (I had a lot!).
I also got to meet my manager at an after work social, which really calmed my nerves regarding the internship!
Midpoint
Now I am halfway through my internship I feel a lot more confident with my projects. I have had a midterm review with my manager the sales intern coordinator. This was an opportunity to reflect on my progress, highlight key strength areas and also look at where I can improve.
There have been very steep learning curves in a short time period but this has been very useful as much learning has been on the job. I have learned key data analysis skills and also had the chance to present to a buyer.
So far I have really enjoyed the environment in the office. I was taken aback by the amount of jokes and interaction between everyone in my area of the office. Everyone makes the effort to balance their work with maintaining a nice social buzz in the office.
My experience thus far has been positive. I expected to really be challenged at P&G and it hasn't let me down. The company gives interns a great deal of responsibility and expect us to deliver. The level of responsibility did come as a surprise, but I have looked to take the opportunity and really make a mark with my projects.
Final Week
My time at P&G has gone incredibly fast. This is mainly because I have been so busy working on different projects with people from across the business. Overall I have had a great time; as an intern I have really seen first-hand just how much P&G invests into its employees. A big part of this is the support network that I have been able to draw from. Everyone is genuine and always happy to help.
The highlight of my internship was travelling to a national account manager to meet one of P&G's customers. In this meeting I presented my plans to the buyer, which was very rewarding.
Advice that I would give to anyone applying to P&G would be to really think about your different skills and examples of how you have demonstrated them in the past. P&G want to know about you and your experiences, so it's important to consider this.