Corina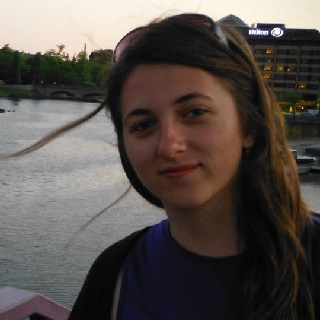 Name: Corina
Current Role: Information Security – Audit Governance, Compliance and Risk
How long have you been at P&G for: 1.5 years (9 months as an intern, 9 months as a new hire)
If you had to describe what working at P&G is like in three words what would they be?
Challenge
Opportunity
Fast-changing
Why did you apply to P&G?
I've always wanted to work in a fast-paced environment, where every day is equally a new challenge and an opportunity. Working in a diverse environment alongside passionate and motivated individuals, right where technology meets the business needs sounded like (and since proved to be) the right place for me to start my career.
What do you do in your role on a day to day basis?
My role is related to Information Security Controls. Analysing and communicating risk related to applications used in the company, proposing mitigation plans and making sure P&G stays compliant with both internal and external standards and policies. In other words, I'm working on protecting P&G`s informational assets.
What has your training and development been like during your time with P&G?
One of the great parts about working in P&G is the training and guidance I've been provided with to develop my technical knowledge as well as my understanding of the business. The 70/20/10 model (70% learning on the job, 20% through coaching and mentorship and 10% formal training) used for developing skills and knowledge has great benefits, especially for someone coming straight out of university, looking forward to getting hands on experience. Having a clear and challenging work plan together with a personal growth plan and strong support network from day one is P&G's way of setting its employees up for success.
How is the work environment/culture at P&G?
Everyone around is willing to help me learn and share their knowledge. Working in a diverse environment where I'm part of the same project team with people from different locations across the globe, with a different native language and culture, but all of us striving for the same goal opens a lot of opportunities for growth. It's easy to see how the core values of the company are shared by its employees, no matter where they are located. The support system and benefits offered by the P&G - such as flexible working hours - helps me maintain a good work-life balance.
How have you been challenged at P&G?
Receiving a clear work plan from the first days in the company, with responsibility not only for the results that need to be delivered but also for making sure they are being delivered at a high standard. If anything goes bad it's my job to realize that fast, get things back on track, articulate any existing risk to the managers and ask for any needed help.
What advice would you give to somebody considering applying to P&G?
Read about the company, it's values and the career paths it offers to understand what suits you best. Make sure to check out the additional information provided on our website and practice for each step of the recruitment process. Be open and ready to offer examples not only from your winning moments but from your more difficult experiences as well, keeping in mind what you've learnt from them.